Interview with Santi Moix
"Each one of the rugs reflects an explosion of light and color where we can all feel identified, since the flowers have a beginning and an end, they are very democratic."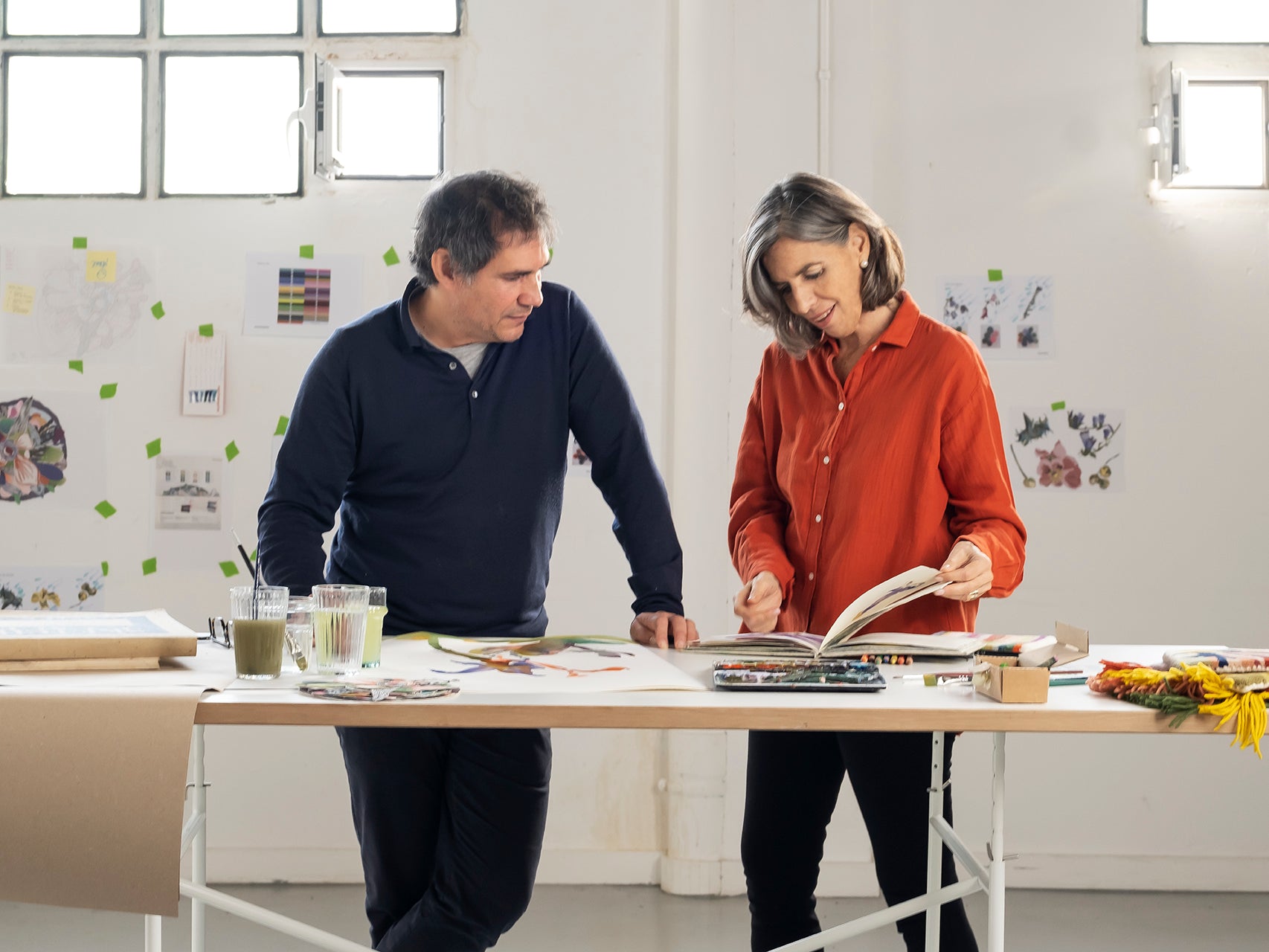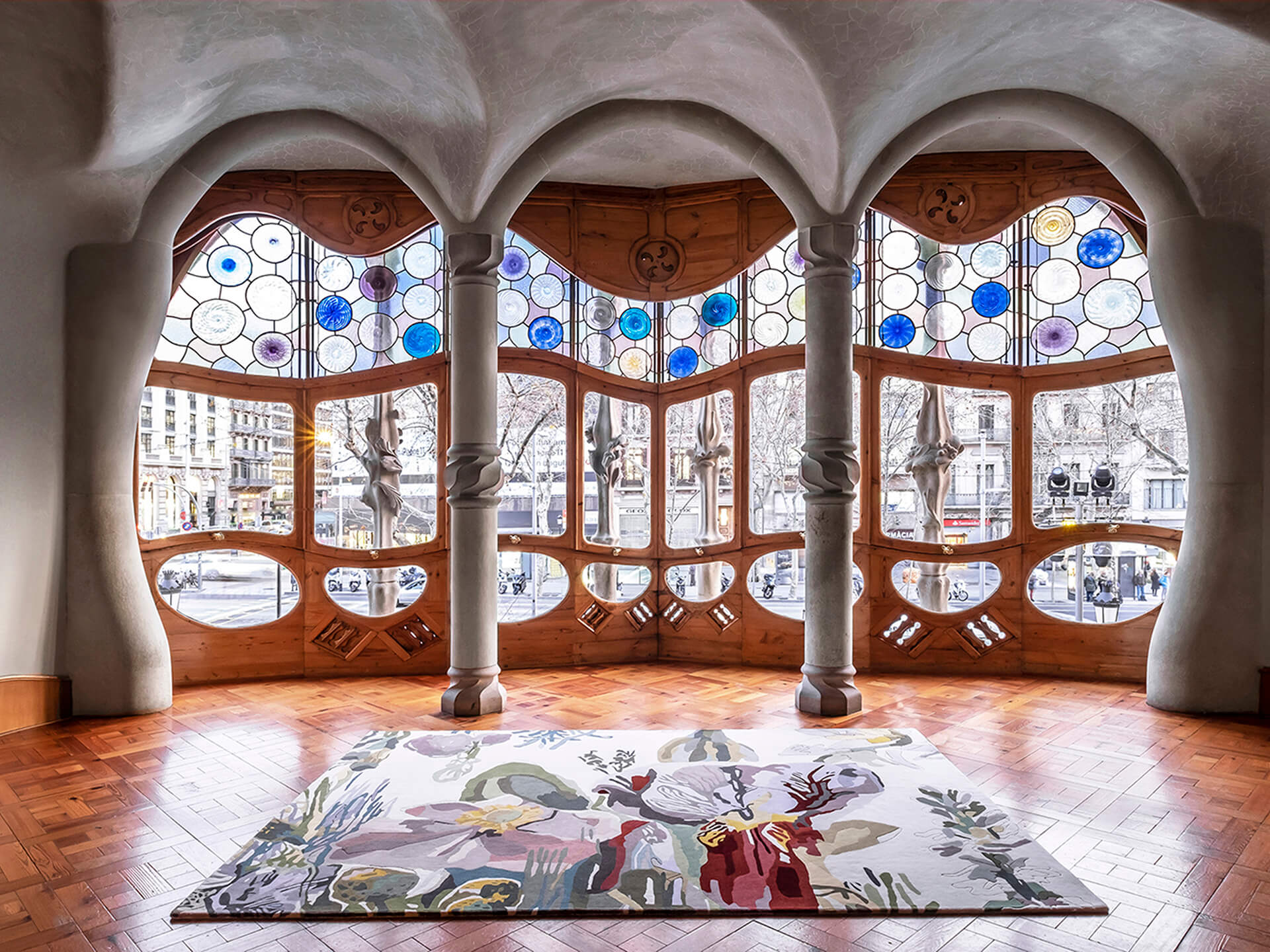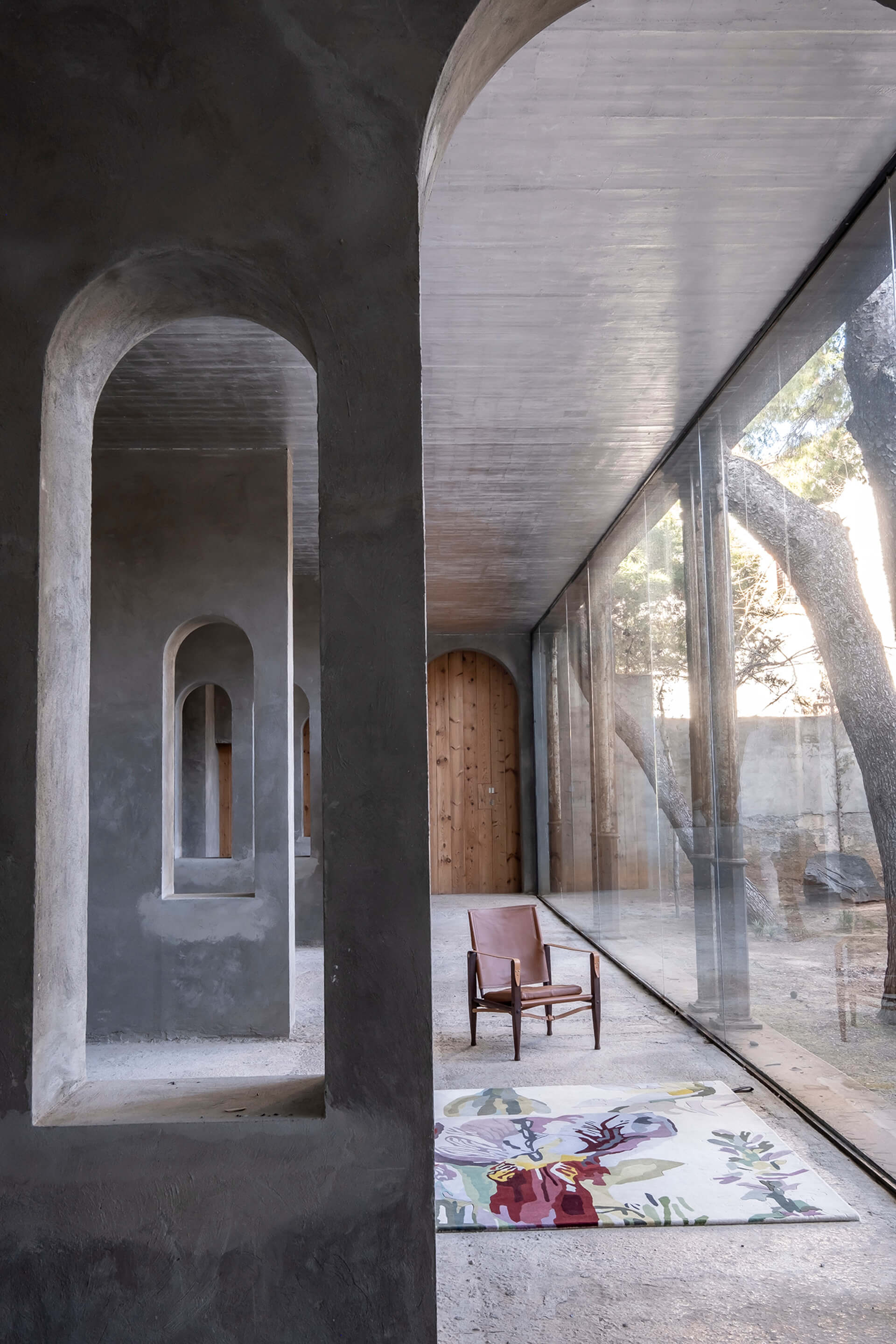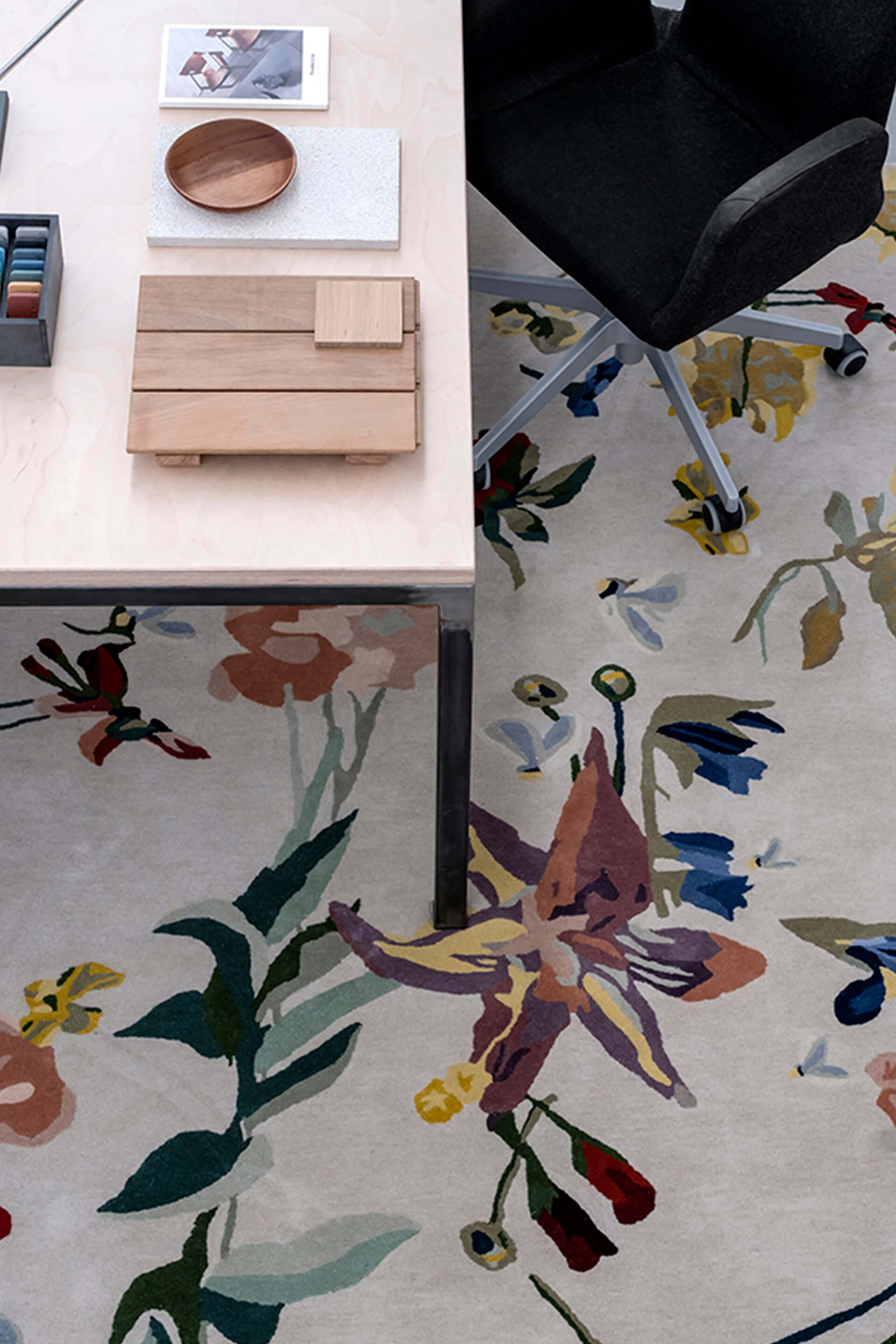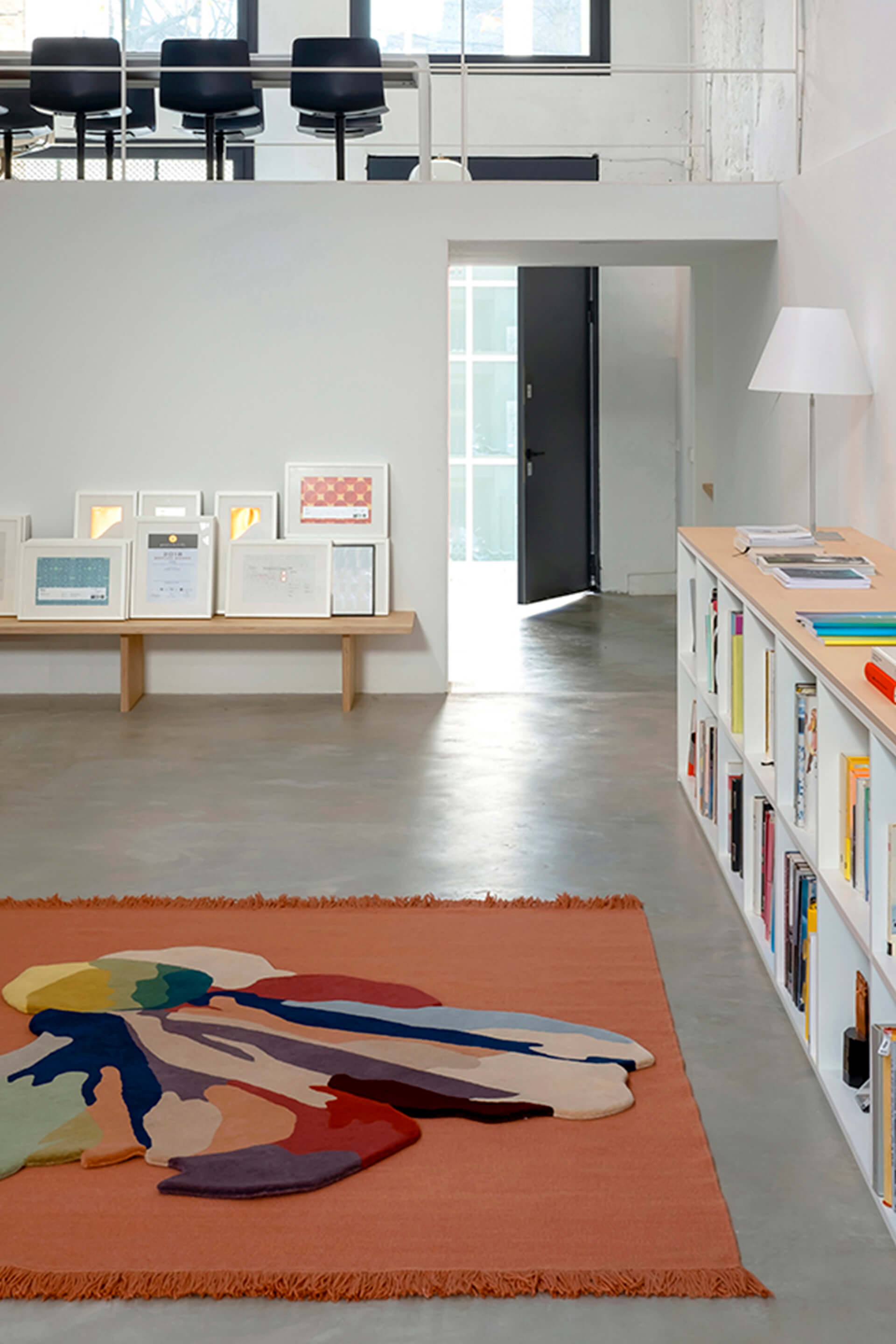 The Flora collection, a new collaboration by the Barcelona artist Santi Moix born from Nani Marquina's admiration for his work. An exercise that continues to support culture and art.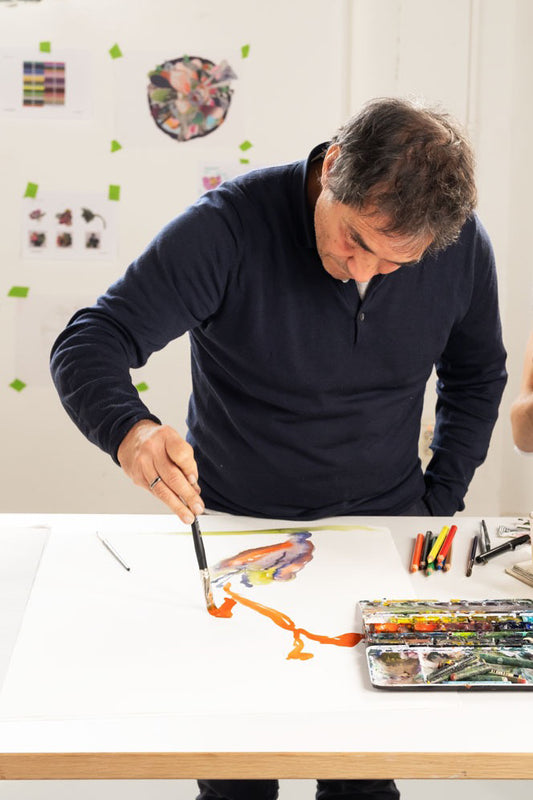 Santi Moix painting flowers
We have spoken with Santi, to discover the roots of the collaboration, his universe of flowers and his relationship with color.
Why flowers? What do they express that fascinates you so much?
The flowers have come to me, I did not look for them. Many of the works I do are the result of mere coincidences. I started exploring flowers thanks to a proposal from Page Gallery and John Watanabe, who suggested the subject to me.
What did you like about the flower project?
Flowers surround us, we have them close every day, they are part of our lives, perhaps because they are something so common that they go unnoticed. When the project was proposed to me, it coincided with a vital moment in which I realized that the values ​​of flowers spoke of many things that were close to me at that moment. I was interested in the idea that flowers connect people, of being able to make an art that did not start from an elitist concept but that the result was democratic.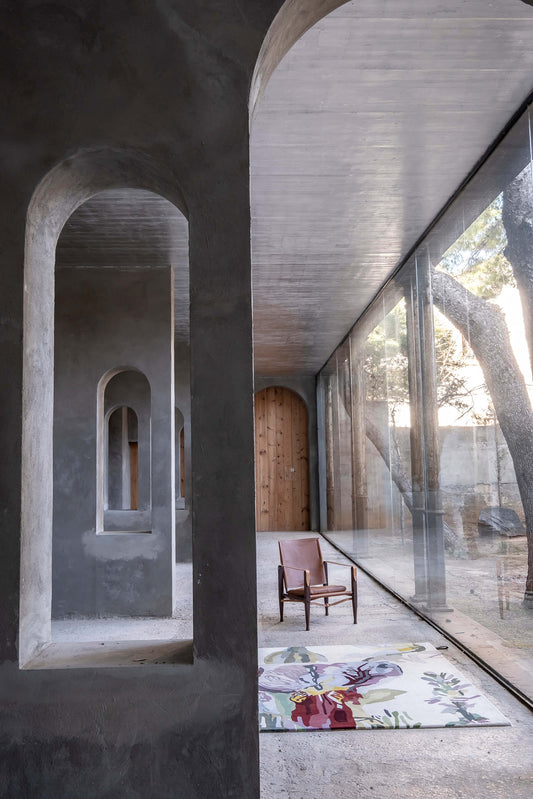 Backyard rug in the Corberó space.
Carlota Marquina, art director of nanimarquina, has chosen some of the most emblematic buildings in Barcelona to present this collection: Xavier Corberó's house in Esplugues de Llobregat. A choice based not only on aesthetics but also because both signs of identity are related to the work and life of the artist. Corbero's, who spent time in his career in New York, helped Santi Moix upon his arrival in the great metropolis and almost became his mentor.
How did this collaboration start? Have you met Nani before?
We met a few years ago, we have some mutual friends. Mainly artists who have also collaborated with nanimarquina in the past, such as Javier Mariscal and Xano Armenter. Then we met again a couple of summers ago in the Empordà. On this occasion I showed him one of my recent installations, the interior of the church of San Víctor in the town of Saurí. We started by trying to reproduce a porcelain flower from inside the church. But it was when he saw my sketchbook that the project really started. She told me that she had wanted to make a flower rug for years, but couldn't find the right flowers, and apparently she did it with my paintings.
Explain to us the concept behind the Flora collection and your perception of colour.
Each one of the rugs reflects an explosion of light where we can all feel related since, as I have mentioned, flowers have a beginning and an end, like humans, they are very democratic. Each flower reflects a different moment in your life and each stage is interesting and important. Sometimes I prefer them when they are in a fragile stage than in their most explosive moment, because in these final moments they have the imprint of what they have lived through. It has been a process of craftsmanship, of understanding flowers and constantly painting them and I think that each flower on the rugs reflects this work behind it, only with this constant painting I think I am able to reflect the subtlety of each stage of the flowers. Color is something difficult to explain, if I could explain it I wouldn't paint it anymore. I do not use color to decorate or enhance, but to highlight those states of the flowers that I would like to express. Color is also intimately linked to your mood and it is important to be modest when you use it, and give it a common thread, have something to tell through it. It is then that the color only accompanies and does not exceed what you want to say.