Guided by her passion for design and thanks to a long career in private and public use projects, nanimarquina has become an international benchmark in contemporary rugs and interior design.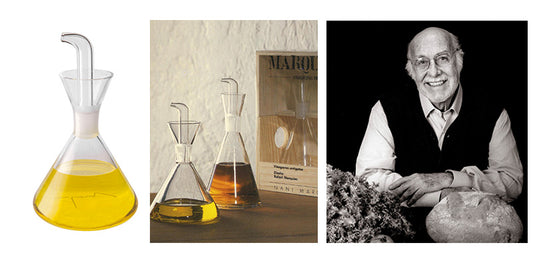 1960
The family business
Design has always been present in the Marquina home. Rafael Marquina, Nani's father and creator of the famous Marquina oil cruet, was one of the pioneers of industrial design in Spain. This influenced Nani, who, lured by her father's creative capacity, decided to follow in his footsteps. However, in the seventies, a new path for design emerged, closer to art and craftsmanship, which Nani was keen to experiment with.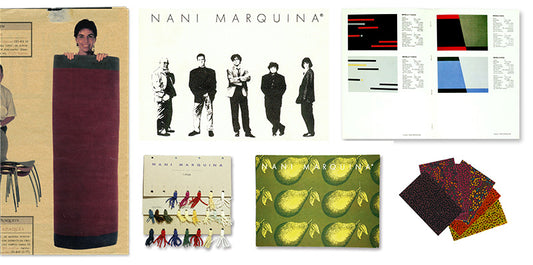 1987
The result: nanimarquina
When Spain's dictatorship ended and democracy was restored, revolutionizing changes took place at every level—economic, social and political—completely transforming the country. It was a time of extraordinary vitality, euphoria and celebration, also described as the design bonanza. Against this backdrop, nanimarquina took the market by storm with a brand new concept for the times: turning the classic rug into a contemporary design product.
"I wanted to design visually stunning rugs that people would enjoy."
Nani Marquina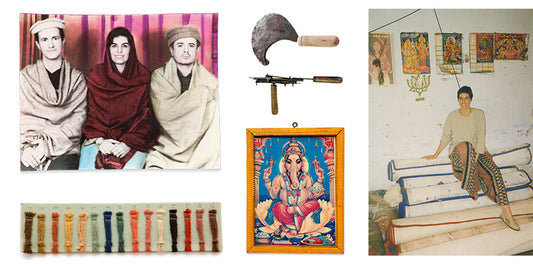 1993
The first trip to India and Panipat
At that time, the upcoming profession of industrial designer and that of entrepreneur were both reserved for men. However, that did not prevent Nani Marquina from launching the business, designing and marketing her product and, in 1994, venturing to move production to India, where she discovered the unlimited scope of craftsmanship and the cultural value of the rug. Today, with an unwavering respect for tradition and the environment, we continue to produce our rugs in India, Pakistan and Nepal.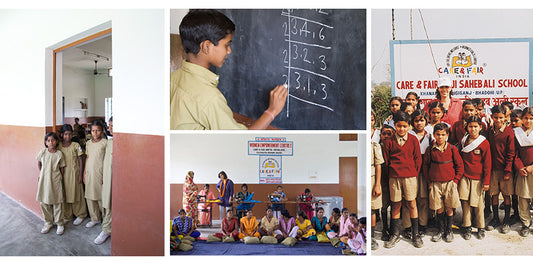 1995
We work with Care & Fair
Since 2002, we have been collaborating with Care & Fair, an organization founded in 1994 to fight child labor and improve the quality of life of rug manufacturers and their families in India and Pakistan. With the financial support of nanimarquina, Care & Fair has funded the Amita Vidyalaya school in Bhadohi through the Kala project, as well as health centers in collaboration with other companies in the sector.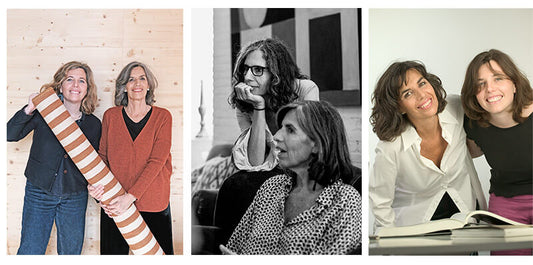 2002
Second generation
nanimarquina is a family business. In 2002, Nani's daughter, Maria Piera Marquina, joined the company to drive its international expansion. Maria now serves as Managing Director. In 2002 Nani's sister, Carlota Marquina, also joined the team as graphic designer and Art Director, defining the visual communication of nanimarquina and its products.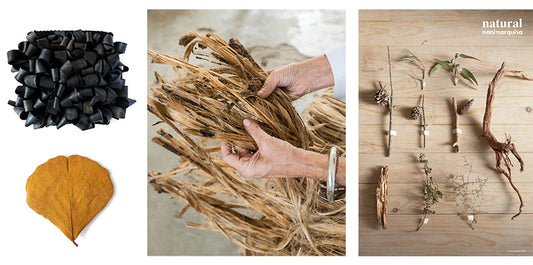 2005
Reduce, reuse and recycle
Care for the environment has been a constant throughout our history. From the outset, we have been designing long-lasting rugs that do not take part in the throwaway consumer culture and that foster recycling, thus promoting a more conscious form of consumption. An example of this was the 2005 launch of Bicicleta, a circular collection that gives a second lease of life to used bicycle inner tubes.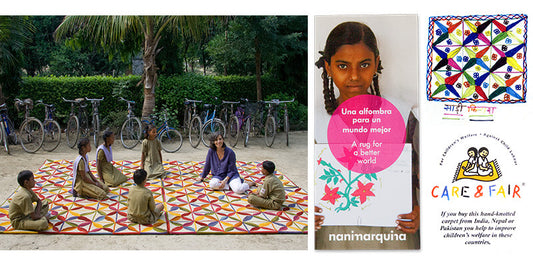 2008
Social commitment
The Kala project is the result of our partnership with the Care & Fair organization. Proceeds on sales from this collection, created from original drawings by pupils at Care & Fair schools, are used to fund the Amita Vidyalayam school in Badohi (India). For each rug sold, nanimarquina donates €150.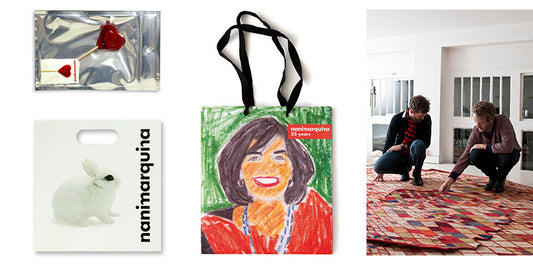 2010
Showroom in Barcelona and collaboration with international designers
We opened our first showroom in Barcelona, a place that has become a focal point for architects, interior designers and design lovers. We also began working with international designers such as Ronan & Erwan Bouroullec, with the Losanges collection.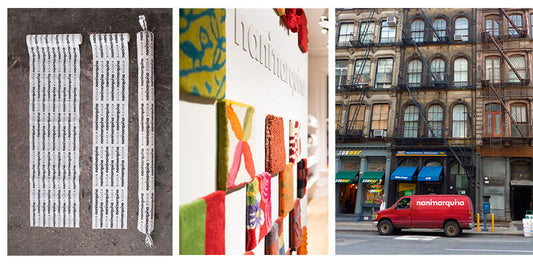 2014
A global company
With more than 400 points of sale worldwide and more than 80,000 homes featuring our products, the nanimarquina team grew in 2014 with new offices in New York.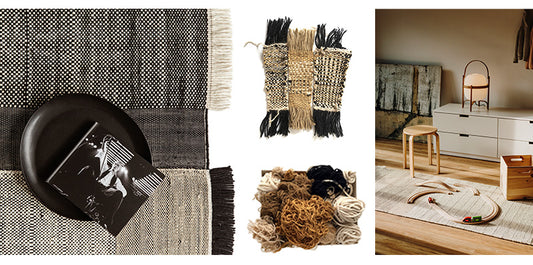 2016
The launch of our Tres collection
Tres, nanimarquina's most iconic collection, reflects the brand's passion for craftsmanship and pays specific tribute to the age-old craft of weaving. The collection calls for a return to basics, appreciating beauty in details and respecting tradition.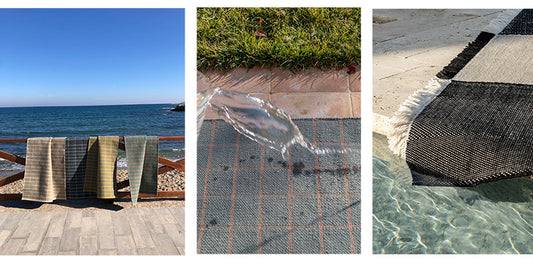 2017
We went oudoors
Made from 100% recycled PET fiber obtained by recovering and reusing polyethylene waste, the outdoor collections are highly resistant to water and adverse weather conditions. By using recycled PET, we repurpose plastic bottle waste, minimizing the impact of plastic burning in India.
2021
New Contract business unit and Formula collection
After more than 30 years and 2000 projects around the world, we know that every project is unique. Our new Contract division meets all the requirements of designers and architects with options that respond to every need. Among them is Formula, the new collection of highly functional, top quality, sustainable, plain rugs designed especially for large volume projects.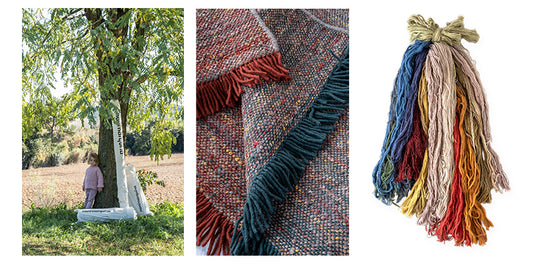 2022
35 years innovating
Since our launch we have been developing sustainability strategies that shape the company's global actions. In this special year, as we celebrate our 35th anniversary, we are thrilled to announce our latest milestone in terms of sustainability: we are now a Climate Neutral certified company! Having developed a measurement, reduction and offset program, nanimarquina chooses a zero-emissions future. We are also proud to announce the addition of Re-Rug to the catalogue. This circular collection emerged from the decision to use the wool leftovers accumulated by our suppliers in India.
We remain focused on our main objective: reinventing the rug. And we do so as we know best, always combining tradition with design; envisioning sustainability from a practical point of view.
ICFF Editors Awards
2014
Best company on Carpet and Flooring
—
SMEs Award
2014
Aster Business Career
—
Continuarà Awards
2012
Spanish public television. "25 years nanimarquina"
—
DMD Award
2011
Design Management Europe
SMEs category
—
"Barcelona the best shop in the world" Award
2010
Best business initiative category
—
National Prize for Culture
2008
Design category
—
IWEC Award
2008
International Women Entrepreneurial Challenge
—
Furniture Design Award Singapore
2007
Merit Award
—
Príncipe Felipe Award to Business Excellence
2006 - 2007
SMEs Design and Business Competitiveness
—
Chamber of Commerce of Barcelona
2005
Design Management Award
—
Spanish Design National Award
2005
Ministerio de Industria, Turismo y Comercio
—
ICFF Editors Awards
2004
Best company on Carpet and Flooring
—
IDQ Award
200
Best product