Size and Fitting Guide
Looking for the best rug size for your space? A well-proportioned rug will unify separate elements and pull the room together.
Rugs can also be used to create balance in a less symmetrical space and to zone open plan areas.
Before choosing your rug, consider the following:
Our recommendations
Discover the tips from our experts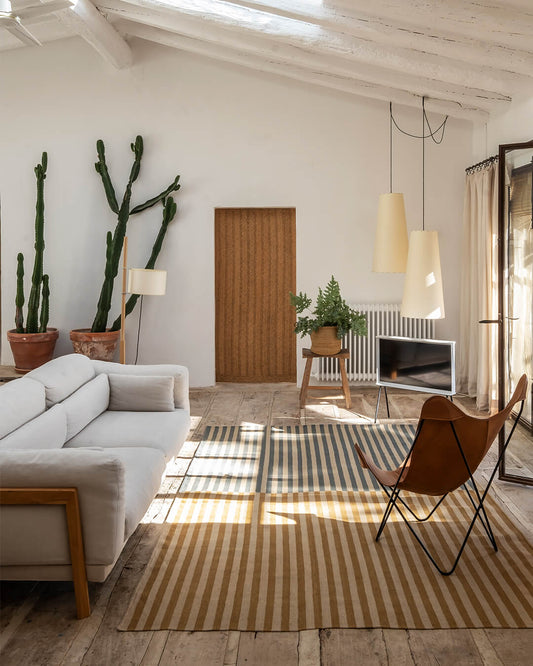 Living room
As a general rule, large and small rest areas benefit greatly from adding a rug, which helps to define the different spaces and bring comfort to the entire room. A rug will additionally offer acoustic insulation.
We recommend choosing large rugs to accompany furniture. A rug that does not extend to at least the lenght of the main sofa may seem overly small.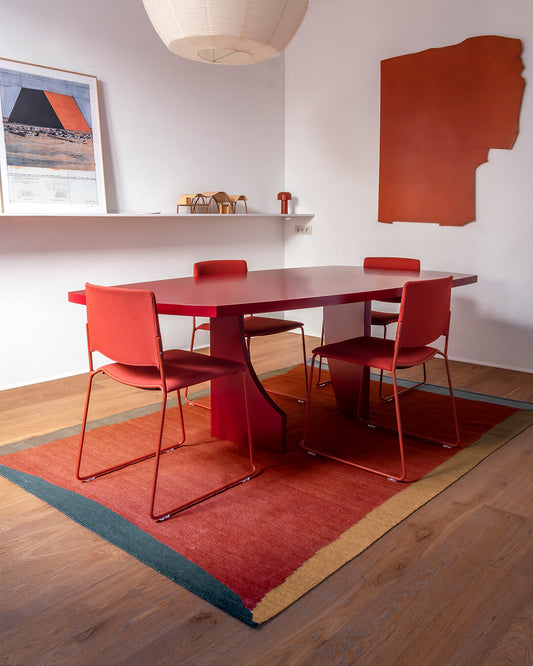 Tones 1 Kilim by Clàudia Valsells
Dinning room
In dining rooms, a rug under the table is a great solution to improve the acoustics of the space, as well as providing comfort and personality.
The size of the rug should be proportional to the size of the table and ideally sligthly larger so that the back legs of the chairs do not protrude from the rug once seated.
Did you know that a seated person occupies approximately 75 cm? Therefore, the rug should be approximately 1 m larger than the table on each side.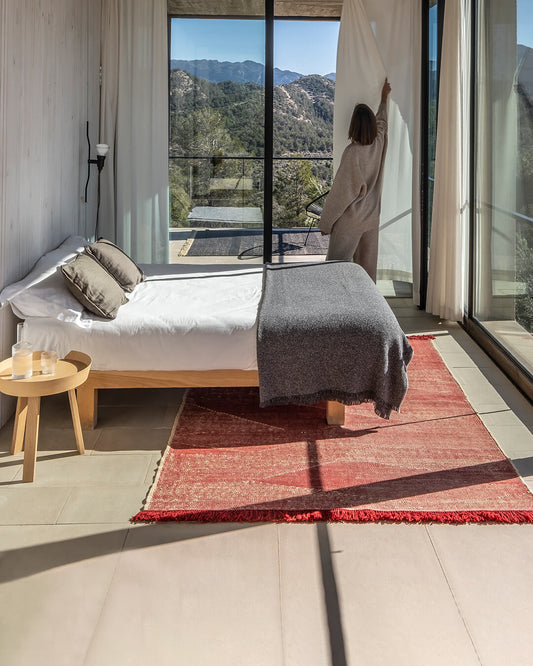 Telares Carmine by Nani Marquina
Bedroom
A rug is a great companion in bedrooms, where maximum comfort is usually sought. It can be placed at the foot of the bed taking advantage of the warmth it offers upon entering and leaving the room; smaller sizes can be placed on both sides of the bed or the rug can even be used as a decorative element.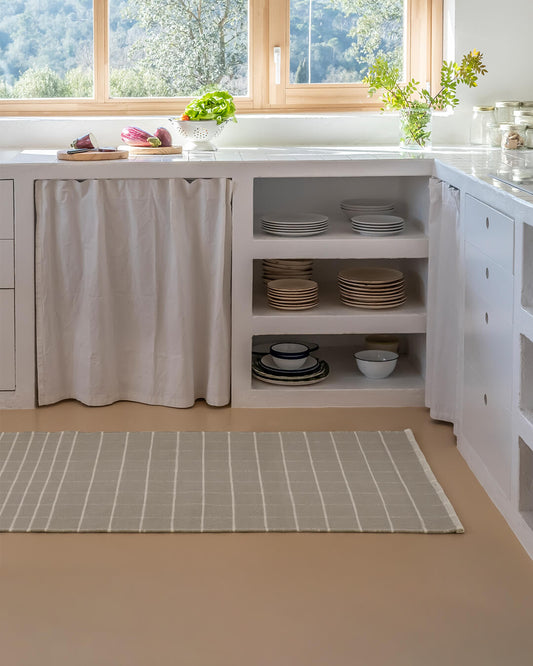 Kitchen
Long, narrow rugs, commonly labelled runners, work very well in kitchens. One example would be to separate food preparation and eating areas. A rug can also be placed to indicate a transition to another room.
In areas where more food or water may fall, we recommend placing rugs that are made with PET fiber. This fiber is more resistant. It supports water and humidity.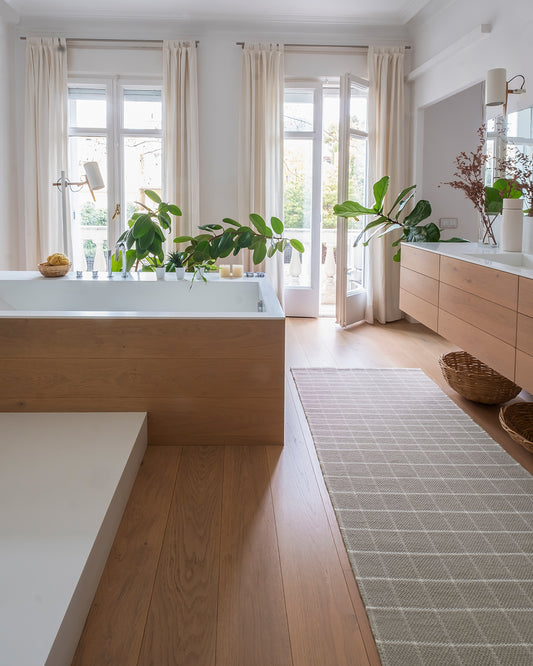 Bath
Although less frequent, a rug can complete bathroom areas very well. Providing comfort in certain areas, separating the water area from the rest or indicating the entrance to a new room.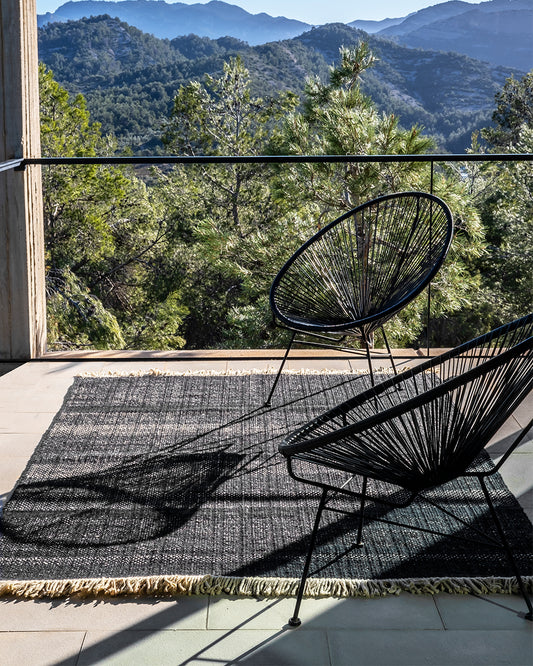 Tres Outdoor Texture Black by Nani Marquina and Elisa Padrón
Terrace
Outdoor rugs are perfect for terraces and outdoor areas where we want to achieve the same feeling of comfort as in indoor spaces. These rugs will help to define specific areas and add personality, while being resistant and easy to maintain.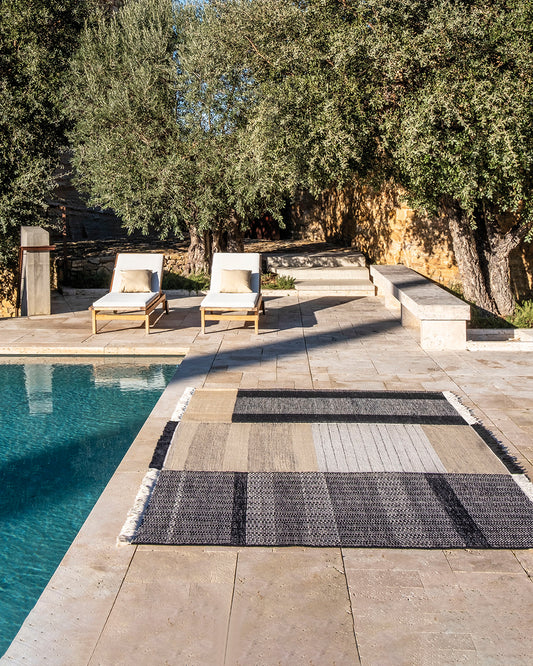 Tres Outdoor Black by Nani Marquina and Elisa Padrón
Swimming pool
An outdoor rug can also be a great companion for pool areas where we want to add color and personality.
We recommend complementing it with our outdoor puffs.
Need help?
Our interior design expert will help you find the perfect rug.