Marquina oil 1961
This oil can ingeniously resolves the dripping of oil so much so that it has crept into practically every home
The Marquina oil company is an example that big problems require simple solutions. A transparent, stable and precise product that contains the essence of the best design.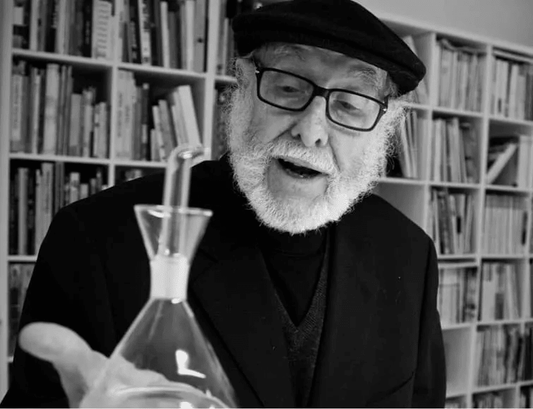 ©Joan Puig. The Newspaper of Catalonia.
"The shape of the oil cans at that time clearly indicated what service was expected of them, but their operation left something to be desired. This last consideration led me to design an oil can that, in addition to a dignified presence, "explained" its function by itself and fulfilled it, without inconvenience."
rafael marquina
"With the same humility of a handmade drawing, in 1961 our father and grandfather designed this oil bottle. Now nanimarquina publishes it, guaranteeing its authenticity."
Marquina family
This iconic piece is probably one of the most copied designs in the world. Nanimarquina now publishes it guaranteeing its authenticity respecting the proportions of the original design, as well as including the author's signature on its base.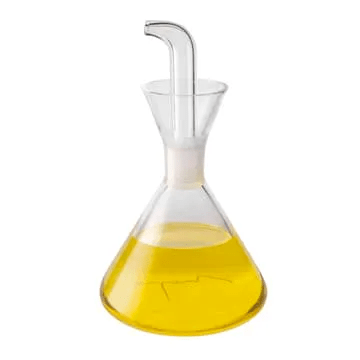 Winner of the first ADI-FAD Delta de Oro in 1961
Benefits of the oil can
1. The design of the spout allows a stable, smooth and precise flow.
2. The frosted finish of the neck of the oil bottle and the base of the spout makes the two parts stay together when serving and hermetically protects the olive oil.
3. The double funnel allows a safe and clean hold, and also serves as a handle.
4. Its removable spout makes it easy to fill and clean.
5. The slot at the base of the spout allows air to enter and makes the drops return to the bottle.
6. Its wide base provides stability.
7. The transparency of the glass allows the liquid to be identified.
8. The impermeability of the glass prevents leaks.
9. Dishwasher safe.