Chillida Dibujo Tinta 1957 Rug
A tribute to the work of the artist Eduardo Chillida, this model reflects the work process leading up to his best known work, the Peine del Viento sculpture in San Sebastián.
Transformed into a rug, Dibujo Tinta 1957 is an elegant composition in which one can recognize the artist's unique lines. An indoor rug hand-tufted from New Zealand wool.
CO2 offset
Regular price

Sale price

3.400,00€

Unit price

per
Size guide
Fibra: 100% New Zealand wool
Alto total: 16 mm
Técnica: Hand tufted
Densidad: 124.000 tufts/m2
Chillida Collection
"Art is linked to what hasn't been done yet, to what has not been created yet. It is something outside of you, in the future, something to search for." Eduardo Chillida
The artwork of Eduardo Chillida (1924-2002) represents one of the greatest artistic accomplishments of the late 20th century.
To pay homage to the artist, the Chillida collection was created based on a chronological selection of his work: Figura Humana – 1948, Dibujo Tinta – 1957, and Collage – 1966, pieces that reflect the gestation process of his renown sculpture: Peine del Viento located in San Sebastián. The collection also includes one depiction of his famous hands: Mano from the '90s, and Gravitación from 1994.
Chillida's artistic nuances have been faithfully translated into rugs, all handmade using various techniques and fibres, such as wool, silk, and hand-spun mohair, to create different textures, showcasing the essence of his work.
See Chillida collection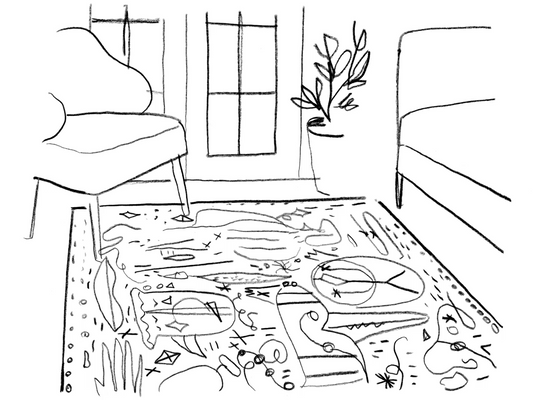 We help you choose the rug size that best suits your space
Choosing a rug is an important decision. This will order and give personality to the room.
You have to take into account what other objects it will coexist with so that it is fully integrated and provides warmth and comfort to the space.
To help you, we have prepared a measurement guide to make it easier to achieve the desired finish.