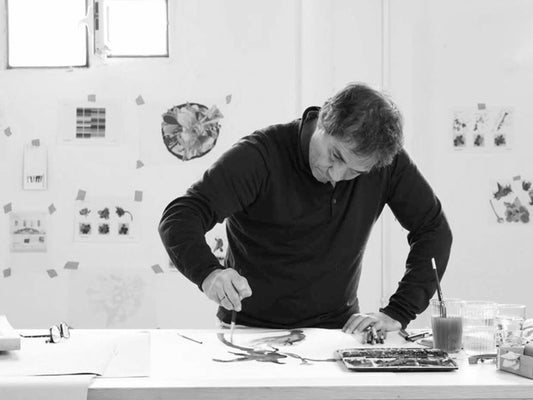 Santi Moix
His work is characterized by breaking up with the image of continuity, creating biomorphic structures, paintings and sculptures as moving elements.

Santi Moix i Sala was born in 1960 in Barcelona. He is dedicated to sculpture, drawing and engravings from his study in New York, although it is in painting where he finds his place of reflection.

His obsession is to tell stories to develop his fantasy, without losing a sense of humor. A multifaceted creator and observer, he is in love with Indian painting from the fifteenth century and finds his sources of inspiration in masters such as Delacroix, Velázquez, El Greco, Picasso, Miró, Pollock and Mutzuo Takahashi, in addition to literature.

At 14 years old, he went to study in Paris and then in Italy, where he met Federico Fellini. In 1981 he made his first individual exhibition in a small space in Sant Cugat del Vallès. Later, in 1986, he was able to travel to New York thanks to the sale of one of his paintings.

He has made individual exhibitions in the United States, Spain, Sweden, Belgium, Japan, France among others as well as in collective exhibitions in the United Kingdom, the United States, Spain, Brazil and Germany, to name a few of the more prominent ones.

Moix achieved international recognition in 2013 when Prada commissioned a large mural for their store in Soho in New York. Throughout the years, the artist has done several exhibitions around the world. In 2018 he did his famouspictorial intervention in the Church of Seuri.
Recently he has exhibited at the Pace Prints gallery in New York.